2011 June - The Leading Edge
Dengue Fever Creeps Back Into the U.S. — and Climate Change Isn't Helping; Climate Scientists in Australia Moved to Secure Facility; Rick Santorum: Man-made climate change is liberal 'junk science,' in sharp contrast to Mitt Romney; Australian climate scientists receive death threats; Stanford University study indicates 'Permanently Hotter Summers' if no action is taken to address human caused climate change; What's to Blame for Wild Weather? "La Nada"; Wandering gray whale points to climate change; Wallace Encourages Fox Viewers To Remain Misinformed On Climate Change; Transparency Maldives launches Global Corruption Report on climate change; Australia academics blast UK lord over Hitler jibe; Storm Warnings: Extreme Weather Is a Product of Climate Change; American Association for the Advancement of Science (AAAS) AAAS Board: Attacks on Climate Researchers Inhibit Free Exchange of Scientific Ideas
Our Sun
Global Highlights
The combined global land and ocean average surface temperature for April 2011 was the seventh warmest April on record at 14.29°C (57.76°F), which is 0.59°C (1.06°F) above the 20th century average of 13.7°C (56.7°F). This was also the 35th consecutive April with global land and ocean temperatures above the 20th century average.
The worldwide ocean surface temperature was 0.38°C (0.68°F) above the 20th century average of 16.0°C (60.9°F) and the 11th warmest April on record.
The April worldwide land surface temperature was 1.12°C (2.02°F) above the 20th century average of 8.1°C (46.5 °F)—the 6th warmest on record.
For the year-to-date, the global combined land and ocean surface temperature of 13.08°C (55.66°F) was the 14th warmest January–April period. This value is 0.48°C (0.86°F) above the 20th century average.
Source: http://www.ncdc.noaa.gov/sotc/global/2011/4
Dengue Fever Creeps Back Into the U.S. — and Climate Change Isn't Helping
By Bryan Walsh Friday, June 10, 2011
Then there's climate change. As the weather warms, especially in the tropics, the mosquito is able to thrive and expand its potential range. A 2008 report by the Lowy Institute in Sydney estimated that by 2085, more than half the world's population will be living in areas that are at risk for dengue fever, far greater than today. In general, vector-borne diseases like malaria and dengue and West Nile Virus could become more prevalent as the weather warms and the winters that once stopped these mosquitoes cold become less of a barrier.
Source: Time Magazine - Healthland Section
Climate Scientists in Australia Moved to Secure Facility
Editorial Note: Reports over the past few days have revealed excessive threats to the lives of climate scientists. This has been seen more and more over the past few years. Those willing to stir up the emotions of the public based on claims that climate science is a hoax and some sort of democratic or liberal conspiracy to foist bigger government on the people of the world are based on nothing more than political ambition and foment the vitriolic threats that are becoming increasingly common. Like climate science, but not as complex 2 + 2 = 4, not because we believe it or not, but simply because it's a fact. The battle is about facts over belief and unfortunately we need to do a lot more to educate the public about the basis, premise, and methods that science uses to achieve levels of confidence in it's findings.
Academics fear climate change hate mail might deter future researchers
Deborah Smith -June 11, 2011
AUSTRALIAN climate scientists have revealed details of the offensive emails they are routinely subjected to, amid concerns that the vitriolic campaign could deter the next generation of researchers.
The emails typically contain obscenities, insults and sexual slurs, with some including threats such as ''the quicker that c---s like you and your kind die, the better''.
The Australian Academy of Science condemned the attacks yesterday, saying researchers had a right to do their work free from abuse, acts of intimidation and threats of violence. 
''We call on leaders across the community to make the same defence of intellectual freedom,'' the academy's president, Professor Suzanne Cory, said.
A climate scientist at the University of Melbourne, David Karoly, said he had been receiving abusive emails for more than two years, but the barrage intensified earlier this year.
He referred a threatening one which said ''Die you lying bastard'' to police in January and they identified the person who sent it.
No action was taken, however, because the police judged he was not at risk of immediate physical violence, Professor Karoly said.
As a result of harassment, he has increased his personal security, making his home phone number silent and removing the location of his office from websites.
While the hate mail was presumably intended to silence him, Professor Karoly said it made him only more determined to publicly discuss the latest scientific findings on climate change. ''The more they do it, the more they encourage me to feel as though this is an important time and the information presented is important.''
Source: The Sydney Morning Herald
Rick Santorum: Man-made climate change is liberal 'junk science,' in sharp contrast to Mitt Romney
BY Aliyah Shahid - DAILY NEWS STAFF WRITER -Thursday, June 9th 2011, 1:39 PM
Man-made climate change? Liberal hogwash, says Rick Santorum.
The Republican presidential candidate and former Pennsylvania senator expressed his skepticism to Rush Limbaugh on Wednesday, calling the widely held consensus in the scientific community that humans are responsible for global warming "junk science."
"I believe the Earth gets warmer, and I also believe the Earth gets cooler," Santorum said. "And I think history points out that it does that. The idea that man, through the production of \[carbon dioxide\] - which is a trace gas in the atmosphere, and the man-made part of that trace gas is itself a trace gas - is somehow responsible for climate change is, I think, just patently absurd ."
He then said the issue was an "opportunity for the left" to take more government control.
"It's been on a warming trend so they said, 'Oh, let's take advantage of that and say that we need the government to come in and regulate your life some more because it's getting warmer.' It's just an excuse for more government control of your life."
Source: The New York Daily News

Australian climate scientists receive death threats
Universities move staff into safer accommodation after a large number of threatening emails and phone calls
Oliver Milman guardian.co.uk,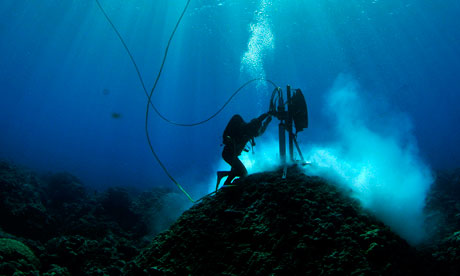 A number of Australia's leading climate scientists have been moved into safer accommodation after receiving death threats, in a further escalation of the country's increasingly febrile carbon price debate.
The revelation of the death threats follows a week of bitter exchanges between the government and the opposition in the wake of a pro-carbon price TV advert featuring actor Cate Blanchett.
The Australia National University (ANU) in Canberra said that it has moved a number of its climate scientists to a secure facility after they received a large number of threatening emails and phone calls.
Ian Young, ANU's vice-chancellor, told ABC national radio that the threats had worsened in recent weeks.
"Obviously climate research is an emotive issue at the present time," he said.
"These are issues where we should have a logical public debate and it's completely intolerable that people be subjected to this sort of abuse and to threats like this.
"I think it is totally outrageous and the vast majority of Australians would think it is totally unacceptable for anybody in society to be subjected to this sort of behaviour."
Young said that scientists had been threatened with assault if they were identified in the street. Among those targeted is Prof Will Steffen, ANU's climate institute director.
Steffen is the co-author of a high-profile Climate Commission report that was published two weeks ago. The report calls for urgent action to avoid sea level rises of a metre or more over the course of the next century.
The death threats have not been confined to the ANU, with universities in New South Wales and Queensland also tightening security for more than 30 ecology, environmental policy and meteorology researchers, according to The Canberra Times.
Several scientists have reportedly switched to unlisted home phone numbers and deleted social media profiles that have been defaced by abuse and obscene images.
The Australian Federal police said that it was aware of the threats but had yet to receive a complaint.
Prof David Koroly, of the University of Melbourne's school of Earth science, told the ABC that he receives threats whenever he is interviewed by the media.
"It is clear that there is a campaign in terms of either organised or disorganised threats to discourage scientists from presenting the best available climate science on television or radio," he said.
Source: The Guardian UK
Climate Scientists Forecast Permanently Hotter Summers
The tropics and much of the Northern Hemisphere are likely to experience an irreversible rise in summer temperatures within the next 20 to 60 years if atmospheric greenhouse gas concentrations continue to increase, according to a new climate study by Stanford University scientists.
"According to our projections, large areas of the globe are likely to warm up so quickly that, by the middle of this century, even the coolest summers will be hotter than the hottest summers of the past 50 years," said the study's lead author, Noah Diffenbaugh.
In the study, the Stanford team concluded that many tropical regions in Africa, Asia and South America could see "the permanent emergence of unprecedented summer heat" in the next two decades. Middle latitudes of Europe, China and North America -- including the United States -- are likely to undergo extreme summer temperature shifts within 60 years, the researchers found.
Source: Science Daily
What's to Blame for Wild Weather? "La Nada"
June 21, 2011: Record snowfall, killer tornadoes, devastating floods: There's no doubt about it. Since Dec. 2010, the weather in the USA has been positively wild. But why?
The blue and purple band in this satellite image of the Pacific Ocean traces the cool waters of the La Niña phenomenon in December 2010. (from Ocean Surface Topography Mission (OSTM)/Jason-2 satellite, Credit: NASA JPL)
"La Niña was strong in December," he says. "But back in January it pulled a disappearing act and left us with nothing – La Nada – to constrain the jet stream. Like an unruly teenager, the jet stream took advantage of the newfound freedom--and the results were disastrous."
This satellite image, taken in April 2011, reveals La Niña's rapid exit from the equator near the US coast. The cool (false-color blue) water was gone by early spring. (from Ocean Surface Topography Mission (OSTM)/Jason-2 satellite, Credit: NASA JPL)
And of course there's this million dollar question: "Does any research point to climate change as a cause of this wild weather?" "Global warming is certainly happening," asserts Patzert, "but we can't discount global warming or blame it for the 2011 tornado season. We just don't know ... Yet.
Editors Note: At this time, direct attribution of single and short term event sequences can not be attributed to climate change due to global warming. To put this in context, we know there is accumulated additional energy in the system; we know that moisture content is increasing in the atmosphere due to warming oceans. Climate is in charge and weather still happens in concert with natural variation. The main difference is that the direction of the road has changed.
Source: NASA
The Rolling Stone Interview
by Al Gore, June 22, 2011 7:45 AM ET
Al Gore clearly outlines the problem of the narrative and the potential for increasing impacts from global warming. Note: the word 'impacts' may not be alarmist enough though. We all need to realize there is a price for continued ignorance. The word 'recession' may be more appropriate. If ignorance of the issue is continued and solutions not developed rapidly enough we may have to consider 'depression' as the next phase.
http://www.rollingstone.com/politics/news/climate-of-denial-20110622
Monckton compares Garnaut to Hitler
Updated Thu Jun 23, 2011 1:02am AEST
A British politician has called the Australian Government's chief climate change adviser, Professor Ross Garnaut, a fascist.
Footage has been posted on the internet of a speech Lord Christopher Monckton gave to a conference in Los Angeles earlier this month. In it he displayed a Nazi swastika next to a quote from Professor Garnaut.
Lord Monckton compared statements made by Adolf Hitler to Professor Garnaut's suggestion that people should accept the mainstream science of climate change.
"That again is a fascist point of view, that you merely accept authority without question. Heil Hitler, on we go," he said.
The British peer is scheduled to speak at the Association of Mining and Exploration Companies (AMEC) conference in Perth next week.
Source: ABC News Australia
Monckton's Nazi jibe over the top: Abbott
Updated Thu Jun 23, 2011 2:22pm AEST
Tony Abbott has moved to distance himself from controversial comments by British politician Lord Christopher Monckton, but says he is still happy to appear at an upcoming mining industry conference which will also host the prominent climate change sceptic.
Footage has been posted on the internet of a speech Lord Monckton gave to a conference in Los Angeles, where he displayed a Nazi swastika beside a quote from the Government's climate change adviser, Professor Ross Garnaut.
Lord Monckton compared statements made by Adolf Hitler to Professor Garnaut's suggestion that people should accept the mainstream science of climate change.
"That again is a fascist point of view, that you merely accept authority without question. Heil Hitler, on we go," he said.
Source: BY ARTHUR MAX  ASSOCIATED PRESS | Jun 27, 2011
The gray whale, a highly endangered species, had been hunted to extinction in the Atlantic Ocean by the mid-1700s. Yet one appeared off the Israeli coast in May 2010. / GUILLERMO ARIAS/Associated Press
When a 43-foot gray whale was spotted off the Israeli town of Herzliya last year, scientists came to a startling conclusion: It must have wandered across the normally icebound route above Canada, where warm weather briefly opened a clear channel three years earlier.
On a microscopic level, scientists also have found plankton in the North Atlantic where it had not existed for at least 800,000 years.
The whale's odyssey and the surprising appearance of the plankton indicate a migration of species through the Northwest Passage, a worrying sign of how global warming is affecting animals and plants in the oceans as well as on land.
"The implications are enormous. It's a threshold that has been crossed," said Philip Reid of the Alister Hardy Foundation for Ocean Science in Plymouth, England.
"It's an indication of the speed of change that is taking place in our world in the present day because of climate change," he said in a telephone interview Friday.
Source: Detroit Free Press
Wallace Encourages Fox Viewers To Remain Misinformed On Climate Change
June 27, 2011 1:59 pm ET by Shauna Theel
On Fox News Sunday, Chris Wallace criticized a University of Maryland study which indicated that Fox News viewers are more misinformed than the consumers of other news media. Wallace said the study labeled those who "questioned whether climate change is occurring" as misinformed, and suggested that doing so would be improper.
The study actually asked, "Do you think that MOST SCIENTISTS believe that" 1) Climate change is occurring, 2) Views are evenly divided or 3) Climate change is not occurring. Noting that the correct answer is that most scientists believe that climate change is occurring, the study found that of those who said they watched Fox News "almost every day," 60 percent got it wrong -- significantly higher than the consumers of other news sources.
A Stanford University study similarly found that "more exposure to Fox News was associated with more rejection of many mainstream scientists' claims about global warming, [and] with less trust in scientists."
It is a fact that climate change is occurring, and anthropogenic global warming is so well-supported in peer-reviewed research that, as the Maryland study notes, the United States' National Academy of Sciences and "97% of self-identifying actively publishing climate scientists agree" that it is occurring.
Source: Media Matters
Transparency Maldives launches Global Corruption Report on climate change
By Mariyam Suha |MALE, June 28 (HNS)
Transparency Maldives Sunday launched the Global Corruption Report: Climate Change compiled by Transparency International.

Transparency International officially inaugurated the report, first of its kind to comprehensively explore major climate-related corruption risks, in April of this year at Dhaka, Bangladesh.

International watchdogs identify that improper or poor governance paves the way to corruption especially in the area of climate change governance, as huge amounts of money flow through new and untested financial markets and mechanisms.

The Global Corruption Report: Climate Change focuses on this issue along with making climate governance work, strategies for reducing carbon emissions, building effective adaptation to climate change, actions for sustainable climate governance and recommended actions for governments, businesses and civil societies.
Source: Haveeru Online
Australia academics blast UK lord over Hitler jibe
By Michael Loccisano | AFP – Tue, Jun 28, 2011
Dozens of Australian academics signed a letter Tuesday demanding a lecture by British climate sceptic Lord Christopher Monckton be axed after he compared the country's climate adviser to Hitler.
The open letter calls on Australia's Notre Dame University to cancel a lecture by Monckton Thursday, saying he stood for "the kind of ignorance and superstition that universities have a duty to counter".
"In hosting this lecture, Notre Dame University is undermining the academic community," the letter, seen by AFP, said.
The letter, started by Natalie Latter, a PhD student examining global ethics and climate change, has been penned as Monckton prepares to give a speech targeting the government's proposal for a carbon tax.
He is on a tour of Australia at the invitation of the "Climate Sceptics" -- a political party registered ahead of last year's national elections .
The speech is entitled "A Carbon Tax Will Bankrupt Australia".
Source: AFP news agency (Agence France-Presse)
Storm Warnings: Extreme Weather Is a Product of Climate Change
More violent and frequent storms, once merely a prediction of climate models, are now a matter of observation. Part 1 of a three-part series...
June 28, 2011
|
DROWNING: The Souris River overflowed levees in Minot, N.D., as seen here on June 23. Image: Patrick Moes/U.S. Army Corps of Engineers
In North Dakota the waters kept rising. Swollen by more than a month of record rains in Saskatchewan, the Souris River topped its all time record high, set back in 1881. The floodwaters poured into Minot, North Dakota's fourth-largest city, and spread across thousands of acres of farms and forests. More than 12,000 people were forced to evacuate. Many lost their homes to the floodwaters.
Yet the disaster unfolding in North Dakota might be bringing even bigger headlines if such extreme events hadn't suddenly seemed more common. In this year alone massive blizzards have struck the U.S. Northeast, tornadoes have ripped through the nation, mighty rivers like the Mississippi and Missouri have flowed over their banks, and floodwaters have covered huge swaths of Australia as well as displaced more than five million people in China and devastated Colombia. And this year's natural disasters follow on the heels of a staggering litany of extreme weather in 2010, from record floods in Nashville, Tenn., and Pakistan, to Russia's crippling heat wave.
These patterns have caught the attention of scientists at the National Climatic Data Center in Asheville, N.C., part of the National Oceanic and Atmospheric Administration (NOAA). They've been following the recent deluges' stunning radar pictures and growing rainfall totals with concern and intense interest. Normally, floods of the magnitude now being seen in North Dakota and elsewhere around the world are expected to happen only once in 100 years. But one of the predictions of climate change models is that extreme weather—floods, heat waves, droughts, even blizzards—will become far more common. "Big rain events and higher overnight lows are two things we would expect with [a] warming world," says Deke Arndt, chief of the center's Climate Monitoring Branch. Arndt's group had already documented a stunning rise in overnight low temperatures across the U.S. So are the floods and spate of other recent extreme events also examples of predictions turned into cold, hard reality?
Increasingly, the answer is yes. Scientists used to say, cautiously, that extreme weather events were "consistent" with the predictions of climate change. No more. "Now we can make the statement that particular events would not have happened the same way without global warming," says Kevin Trenberth, head of climate analysis at the National Center for Atmospheric Research (NCAR) in Boulder, Colo.
Source: Scientific American
American Association for the Advancement of Science (AAAS)
AAAS Board: Attacks on Climate Researchers Inhibit Free Exchange of Scientific Ideas
29 June 2011
Reports of personal attacks on climate scientists, including harassment, legal challenges, and even death threats, have created a hostile environment that inhibits the free exchange of scientific findings and makes it difficult for factual information to reach policymakers and the public, the AAAS Board of Directors said in a statement of concern.
"AAAS vigorously opposes attacks on researchers that question their personal and professional integrity or threaten their safety based on displeasure with their scientific conclusions," the Board said in the statement, which was approved on 28 June.
Scientific progress depends on transparency, the Board said, but "the sharing of research data is vastly different from unreasonable, excessive Freedom of Information Act requests for personal information and voluminous data that are then used to harass and intimidate scientists."
The Board added: "Scientists and policymakers may disagree over the scientific conclusions on climate change and other policy-relevant topics. But the scientific community has proven and well-established methods for resolving disagreements about research results." It uses a self-correcting system in which research results are shared and critically evaluated by peers, and experiments are repeated when necessary.
Leading U.S. scientists have complained about threatening communications and abusive e-mails as a result of their research on the climate impact of heat-trapping gases from human activity. In Australia, top climate scientists have been targeted by an unrelenting e-mail campaign that has resulted in police investigation of death threats, according to recent media reports.
Lawmakers and activist groups also have sought detailed disclosure of records from climate researchers. The American Tradition Institute (ATI) has asked the University of Virginia to turn over thousands of e-mails and documents written by Michael E. Mann, a former U-Va. professor and a prominent climate scientist. Virginia Attorney General Ken Cuccinelli, a climate change skeptic, demanded many of the same documents last year in an effort to determine if Mann had somehow defrauded taxpayers in obtaining research grants. ATI also has sued NASA to disclose records detailing climate scientist James Hansen's compliance with federal ethics and disclosure rules.
"While we fully understand that policymakers must integrate the best available scientific data with other factors when developing policies, we think it would be unfortunate if policymakers became the arbiters of scientific information and circumvented the peer-review process," the AAAS Board says. "Moreover, we are concerned that establishing a practice of aggressive inquiry into the professional histories of scientists whose findings may bear on policy in ways that some find unpalatable could well have a chilling effect on the willingness of scientists to conduct research that intersects with policy-relevant scientific questions."
Full Text of Statement PDF Download
Source: American Association for the Advancement of Science (AAAS)